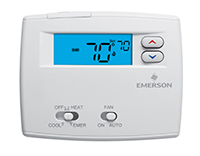 Malfunctioning thermostats are frequently the cause of many air conditioning and furnace problems. If you believe that your thermostat may be causing a problem, read the tips we provide on our site. If necessary, we can send someone out to troubleshoot your particular problem, and provide any needed thermostat repairs or replacements.
Always keep in mind that there are two different types of thermostats: low voltage and line voltage. Always make sure that you have the type of thermostat that is designed for your furnace.
Programmable Thermostats
Programmable thermostats provide you with a variety of smart options and features that allow you to efficiently use and save energy. The top feature of a programmable thermostat is the ability to change your temperature throughout the day automatically. This prevents you from accidentally leaving the air on when you are away, or at night when you go to sleep. Many programmable thermostats will also remind you to change your air filters.
Give us a call today to learn more about installing a programmable thermostat and using it to save energy and money.
Thermostats and Programmable Thermostat Services
Call Now (800) 513-3580