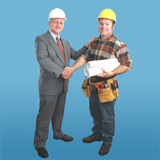 We take pride in our skill and experience working with home and office remodels. If you need ideas, information or advice regarding the most current heating and cooling technologies, give us a call today. We can advise you on energy efficiency, indoor climate control and air quality.
HVAC for Remodels and Renovations Specialist
For renovations or remodeling of a home or commercial building, it is important to always select a contractor that has experience with the type of construction used in your building. Our diverse team has extensive experience with all types of constructions, ensuring that your jobs are completed quickly and to the highest standards.
For HVAC Remodels and Renovations Services
Call Now (800) 513-3580