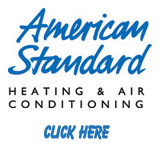 Product Lines
RACCO Inc DBA RACCO Heating & Air Conditioning is authorized by American Standard to sell, install, and service its air conditioners, furnaces, and other air quality equipment. We observe and honor the American Standard criterion.
Upgrading your equipment to an American Standard Energy Star unit gives you 20 percent more energy efficiency than the federal government's current standard. Purchasing an American Standard Heating & Air Conditioning unit with
the

Energy Star label ensures that you're getting the highest efficiency available.
American Standard provides superior equipment which is often more energy-efficient and powerful than other brands while at the same time, more reasonably priced. Here's an example of the kind of customer feedback that we receive about American Standard:
You recommended that I opt for the less expensive but equally efficient air conditioning model offered by American Standard, whereas other companies tried to sell me more expensive models for more profit. I was thoroughly satisfied with your neat and prompt installation service and look forward to the long-lasting and efficient energy-saving operation of the equipment. — John Han
Click here more information about American Standard.