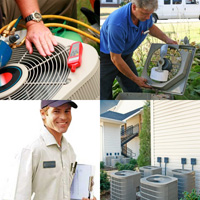 If you are looking for a new Heating and Air Conditioning Installation and a great way to increase the comfort of your home, installing a central heating and air system is a great way to go. In most cases, single-room heating and cooling solutions are just not able to provide the level of comfort that you desire. Central heating and air, on the other hand, uses ducting to distribute hot or cold air efficiently throughout your home.
Our professional HVAC technicians can help you choose and install a central air system that is perfect for your home. We have systems available to match all home sizes, budgets and climates.
We Provide Systems That Are:
Energy Efficient
Quiet
Durable, Reliable and Guaranteed
We can also provide:
Zoning systems that allow you to control the heating and cooling in isolated areas of your home
Environmentally friendly refrigerants that will not damage the environment
Frequently Asked Questions
Can replacing my old heating and air system lower my energy bills?
Definitely. By replacing old, outdated units with highly efficient Energy Star air conditioners and furnaces, you can expect a significant drop in your energy bills. These more advanced heating and air units utilize technologies such as electronic ignitions, which are a great improvement over the pilot light. Not only can upgrading your equipment save you money, but also reduce pollution.
How large of a heating and air unit should I buy?
There are a variety of factors that should be considered when choosing a unit. The Seasonal Energy Efficiency Ration is a measure of how efficient heating and air units are under peak times. Although you may want a unit with a high SEER rating, it is not always necessary. We can make a recommendation based on your unique situation.
If I already have central heating, can I add central air-conditioning?
Central heating and air conditioning systems must work together in order to operate properly. These systems are typically installed at the same time, because they must use the same ducts. In most cases, it is possible to add air-conditioning after the fact. We have worked with this many times before, and would love to help.
Can I add central heating and air if my home is already built?
Typically, we can do this, depending on the layout of your home. Call us today and we can provide you with a free estimate, as well as our professional recommendations.
Heating and Air Conditioning Installation Services
Call Now (800) 513-3580